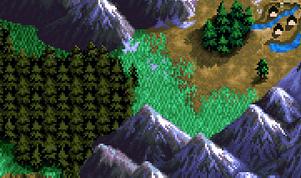 The
Weird Woods
is the forest that
Alex
,
Ramus
,
Nall
and
Luna
passed through to go to the port town of
Saith
so that they could sail to
Meribia
. It is covered by a thick fog, which Luna dissipated using her singing. They first met
Laike
there.
Silver Star Story Complete
Edit
6 Antidote, 4 Herbs, 1 Wrath Ring (Red Chest)
Dungeon Run: First RunEdit
Dungeon Run: Second RunEdit
Four different kinds of monsters roam the woods; the Flytrapper, the Gorgon, the Goblin, and the Scythe Spore.
HP:
27             
Experience earned:
4
Attack: 41        Silver dropped: 9
Defense: 8
HP:
41             
Experience earned:
6
Attack: 49        Silver dropped: 19
Defense: 10

Ad blocker interference detected!
Wikia is a free-to-use site that makes money from advertising. We have a modified experience for viewers using ad blockers

Wikia is not accessible if you've made further modifications. Remove the custom ad blocker rule(s) and the page will load as expected.