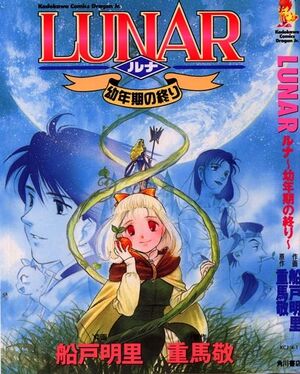 ルナ幼年期のおわり
(romanized: Lunar: Younenki no Owari) is a Lunar comic published by Kadokawa Comics Dragon Jr. and was drawn by Akari funato and was based on work by Kei Shigema. This manga takes place three years after the main events of
Eternal Blue
. It follows a young girl named Alice who is being chased by Ghaleon and Xenobia (for reasons unknown) as she gets caught up in a dangerous adventure with
Hiro
,
Ruby
.
Ronfar
,
Jean
, and
Lemina
join later in the series. It is unclear is the story is canon to
Eternal Blue
, as Ruby is with Hiro and not Nall.
Complete Series
Edit
Download
[uploaded via Crux Brainchild]


Year: 1995
Length: 1 Volume (7 Chapters)
Categories: Action Adventure Fantasy Shounen
Author: Akari Funato
Artist: Akari Funato
Publisher: Kadokawa Shoten
Serialized in: Dragon Jr. (Kadokawa Shoten)
Scanlator: Deja VuEdit
Chapter One - Wings Of Summer
Edit
Chapter Two - The Woman's Call
Edit
Chapter Three - Veteran Heroes
Edit
Chapter Four - The Darkness Woven By The Shadow
Edit
Chapter Five - Veteran Heroes II
Edit
Chapter Six - The Sword's Dance
Edit
Chapter Seven - Childhood's End
Edit
Ad blocker interference detected!
Wikia is a free-to-use site that makes money from advertising. We have a modified experience for viewers using ad blockers

Wikia is not accessible if you've made further modifications. Remove the custom ad blocker rule(s) and the page will load as expected.